Kautex Honored at Ford's World Excellence Awards
July 23, 2020
Kautex Textron has earned a Ford Motor Company "Green" World Excellence Award
Fifty-seven top-performing suppliers recognized for achieving excellence in quality, cost, performance and delivery
Awards are given in 11 categories quality, green, safe, smart, Lincoln luxury, Aligned Business Framework, special recognition, Diverse Supplier of the Year, Supplier Diversity Development Corporation of the Year, gold and silver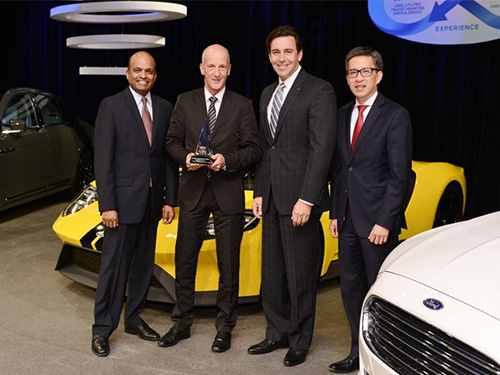 DEARBORN, Mich., May 20, 2016 – Ford honored Kautex Textron, (Kautex) as a top-performing global supplier at its 18th annual World Excellence Awards. Kautex was presented with a Green by Hau Thai-Tang, Ford Motor Company group vice president, global purchasing.
"The "Green" World Excellence Award symbolizes our dedication to building products that contribute to a sustainable, eco-friendly environment," said Thomas Antoine, Vice President, Customer Business Unit. "Our NGFS® technology does just that, and we are honored to receive this prestigious award from Ford."
"Ford's World Excellence Awards allow us to recognize suppliers who demonstrate a strong commitment to quality, performance and teamwork," said Thai-Tang. "Kautex has helped Ford deliver a breakthrough year, and we are thankful they are a part of our One Ford team."
Fifty-seven awards were presented to suppliers who exceed company expectations and distinguish themselves from their peers by achieving the highest levels of global excellence in 11 categories.
Ford World Excellence Award categories include:
Quality, green, safe and smart categories for suppliers who demonstrate leadership in Ford's primary brand pillars
Aligned Business Framework for suppliers who most exemplify the Aligned Business Framework principles, with an emphasis on quality, value and innovation
Special recognition for suppliers that delivered results that exceed expectations
Lincoln Luxury, which recognizes a supplier helping transform Lincoln to be the luxury vehicle of choice
Diverse Supplier of the Year and Supplier Diversity Development Corporation of the Year to honor suppliers that excel in integrating diversity into their organization and business process
Gold and silver for supplier manufacturing sites that have demonstrated superior quality, delivery and cost performance throughout the year
About Ford Motor Company
Ford Motor Company is a global automotive and mobility company based in Dearborn, Michigan. With about 201,000 employees and 67 plants worldwide, the company's core business includes designing, manufacturing, marketing, financing and servicing a full line of Ford cars, trucks, SUVs and electrified vehicles, as well as Lincoln luxury vehicles. At the same time, Ford is aggressively pursuing emerging opportunities through Ford Smart Mobility, the company's plan to be a leader in connectivity, mobility, autonomous vehicles, the customer experience, and data and analytics. For more information regarding Ford, its products worldwide or Ford Motor Credit Company, visit www.corporate.ford.com.
About Kautex Textron GmbH & Co. KG
Kautex, a subsidiary of Textron Inc., is rated among the Top 100 Automotive Suppliers worldwide. The company is a leading global supplier of plastic fuel systems solutions, selective catalytic reduction systems (SCR), camshafts and camera and sensor cleaning solutions. The company also produces plastic packaging meeting numerous industry standards, including agricultural, pharmaceutical and chemical. Headquartered in Bonn, Germany, the company operates 32 plants in 14 countries worldwide. 
About Textron Inc.
Textron Inc. is a multi-industry company that leverages its global network of aircraft, defense, industrial and finance businesses to provide customers with innovative solutions and services. Textron is known around the world for its powerful brands such as Bell Helicopter, Cessna, Beechcraft, Hawker, Jacobsen, Kautex, Lycoming, E-Z-GO, Greenlee, Textron Systems, and TRU Simulation + Training. For more information visit:www.textron.com.