Kautex participated in the fourth ITB Fuel Systems Conference in Pune, India
March 23, 2018
Contributed by Klaus Gebert, Sr. Manager Core Functions.
Kautex participated in the fourth annual ITB Fuel System Conference in Pune, India on March 21 and 22, 2018. The ITB in Pune offered a platform for learning, discussion, and discovery for automotive industry experts and focusses on trends and developments in fuel and urea systems and regulations.
Eight Exhibitors showcased their latest trends in fuel and urea system developments and innovations. Kautex presented a first to market plastic plug-in hybrid pressure tank (VW Passat GTE), and a SCR IM Tank with a specific additional tank heating element. Employees from India, Japan and Germany participated in the event.
Kautex also contributed 2 of 16 lectures, which addressed trends and developments in materials, tanks and components, SCR systems, CFD simulation, and limiting exhaust emissions.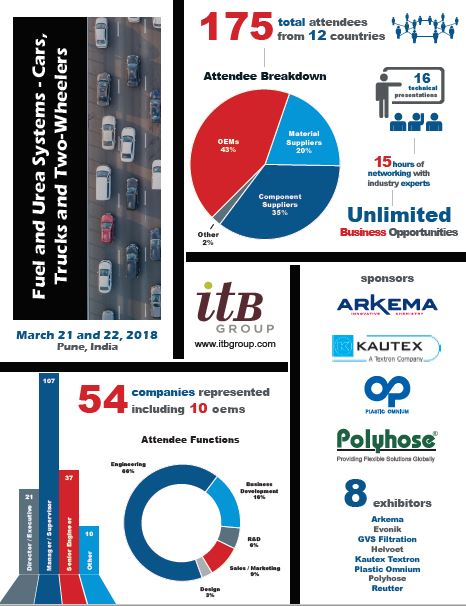 The fuel systems topic we covered was "Plastic Tanks for Hybrid Vehicles - Solutions and Validation " presented by Klaus Gebert, Senior Manager Core Functions. This lecture gave an introduction into the applications of plug-in hybrids (PHEV) and the specific requirements OEMs and suppliers have to face. As an example, pressure tank requirements for vehicles with reduced purge capabilities like plug-in hybrids and range extenders caused the use of thick walled steel tanks or metal reinforced plastic tanks in the first vehicle generation. Klaus described Kautex' pioneering work in the development and production of pure plastic pressure tanks for PHEVs
The SCR-systems topic was "Modular SCR Tank Systems for Various Market and Emission Demands" presented by Nanda Kumar, Engineering Lead-Design. Focus points included the importance of SCR tanks to reduce Diesel engine's NOx emissions and the requirements suppliers need to face with regards to costs, robustness and different climate conditions worldwide.
Special thanks to Klaus Gebert, Simon Schmitz, Nanda Kumar, Shinichiro Choji, Santhosh Shashidhara, Roshan Kumar, Rohan Martis for representing Kautex at ITB in Pune!
In total, 175 attendees from 12 countries visited the ITB in Pune; a mix of OEMs (43%), material suppliers (20%), component suppliers (35%) and other visitors (2%). 54 companies were represented, including 10 OEMs.
Source: The ITB Group, Ltd.