Kautex presents new products at ITB in Novi, Michigan
April 17, 2018
Contributed by Dirk Eulitz, Director New Technology Mgt. and Klaus Gebert, Sr. Manager Core Functions.
On March 7 and 8, 2018, Kautex participated in the 19th annual ITB Automotive Energy Storage Systems Conference in Novi, Michigan, USA.
Kautex presented a first to market plastic plug-in hybrid pressure tank (VW Passat GTE), and an SCR IM Tank with a specific additional tank heating element.
Kautex employees from North America and Germany participated in the event.
Kautex also contributed with 2 of 25 lectures presented at this conference. The fuel systems topic was " Consumer View of a Fuel System - A Proposal for a Change In Vehicle Filler Cap Design" presented by Dirk Eulitz, Director New Technology Mgt. Focus point was the idea of a new refueling interface for AdBlue/DEF and Diesel that provides AdBlue/DEF fill level information at the filler door.
The SCR-systems topic was "Comparative Benchmark of Novel Heater Concepts Supporting RDE Components and Functionalities" presented by Nicolai Schumacher, Sr. Manager SCR, Core Engineering. Focus points included different technologies to thaw frozen liquid in cold driving conditions.
Both lectures were highly appreciated by the audience. The OEM interest was very high and the fruitful discussions were extended in separate meetings with individual OEMs in the days after the conference.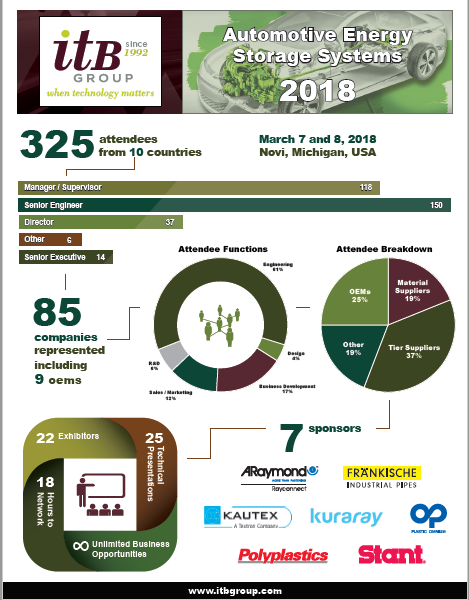 The ITB Group is one of two major providers for conferences in the field of fuel and alternative energy storage systems. This technical conference provides a forum where leading industry experts can discuss and present their latest developments and innovations.
22 companies showcased their products and services, including latest developments and innovations related to fuel systems, SCR systems, water injection systems and alternative energy systems, including fuel cells, PHEV technologies and OEM strategies. In total, 325 visitors from 10 countries attended the event; mainly a mix of OEMs (~25% OEM engineers), Tier "X" suppliers (~37%) and material suppliers (~19%). These attendees represent 85 companies including 9 OEMs.