Kautex Textron is Recognized at the "Deutscher Bildungspreis 2015" – a German Education Award
October 23, 2016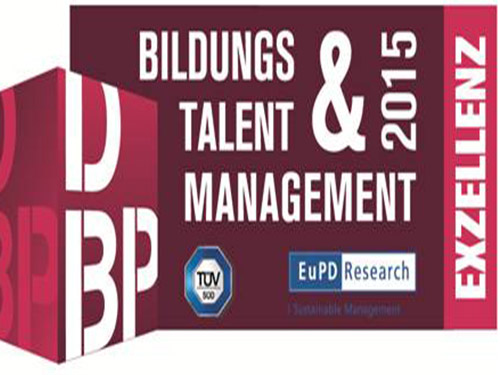 Company is named a Top Three Finalist among large manufacturing organizations for development and talent management practices
BONN, GERMANY (23 April, 2015) – Kautex Textron, a Textron Inc. company,  (NYSE: TXT), announced it was named by TÜV SÜD Akademie and EuPD Research Sustainable Management as one of the top companies in Germany focused on education and talent management practices. The company was recognized yesterday at the "Deutscher Bildungspreis 2015" ceremony, held in Humboldt Carré Berlin.
Sponsored by the Federal Ministry of Education and Research, the Award is issued annually in five categories depending on size and focus of the participating company. More than 170 companies applied in 2015, from which a total of 40 applicants were selected to move to the next phase. An 11-member expert advisory committee determined three finalists in each of the five categories, and these finalists participated in an extensive one-day audit.  
Kautex received the recognition "Excellence in Development and Talent Management" as one of the top three finalists in the category of large manufacturing companies.
"We are honored to receive this recognition as one of the top companies in Germany focused on talent management," said Beate Bungartz, vice president, Global Human Resources. "Kautex places a strong emphasis on the development and promotion of all employees, which is an essential part of our growth strategy. Talent management targets are inherent part of our company culture, and we are pleased to have these efforts acknowledged in such respected organizations."
Developed in 2012, the "Deutscher Bildungspreis" recognizes companies demonstrating exemplary talent management practices to ensure the continued development and growth of their employees. 
About Kautex Textron GmbH & Co. KG
Kautex, a subsidiary of Textron Inc., is rated among the Top 100 Automotive Suppliers worldwide. The company is a leading global supplier of plastic fuel tank systems, selective catalytic reduction systems (SCR) and clear vision systems. In addition, the company produces and supplies camshafts and packaging. Headquartered in Bonn, Germany, the company operates 30 plants in 14 countries worldwide.
About Textron Inc.
Textron Inc. is a multi-industry company that leverages its global network of aircraft, defense, industrial and finance businesses to provide customers with innovative solutions and services. Textron is known around the world for its powerful brands such as Bell Helicopter, Cessna, Beechcraft, Hawker, Jacobsen, Kautex, Lycoming, E-Z-GO, Greenlee, and Textron Systems. For more information, visit www.textron.com.