Progress Continues on Kautex Wuhan Facility
November 3, 2016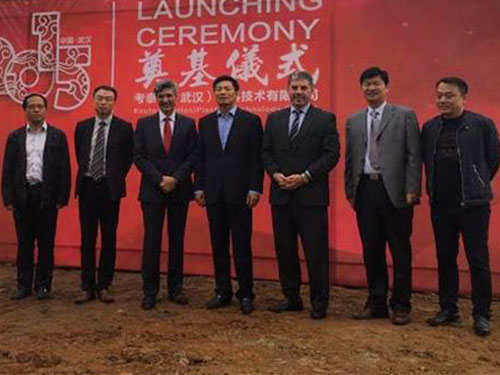 New plant will be located in the Wuhan Economic and Technological Development Zone
WUHAN, CHINA (3 November, 2015) – Kautex Textron GmbH & Co., KG (Kautex), a Textron Inc. (NYSE: TXT) company continues to make solid progress toward the launch of its fifth plant in China. Company executives visited the site of the future plant and met with members of the Administrative Committee of Wuhan Economic and Technological Development Zone (WEDZ), with whom they are collaborating on the project.
Earlier this year, Kautex signed an investment agreement with the WEDZ in connection with their planned expansion in the region.  The collaboration between Kautex and WEDZ paves the way for Kautex to further its presence in the Chinese auto segment. Kautex will produce plastic fuel tanks and other automotive components for its global customers operating in the region. The initial facility, which will be located in the WEDZ in China's Hubei Province, is expected to be 3,800 sq. meters with the option to expand to 7,500 sq. meters. Trial production at the facility is anticipated to begin in 2016, with formal production anticipated in 2017.
 "This is an exciting opportunity for Kautex, given the long-term growth potential in the region and our ability to produce high quality fuel systems which meet stringent environmental standards," said Vicente Perez-Lucerga, Kautex's president and CEO.  
Kautex fuel tanks will be produced using its NGFS® technology. The application of NGFS® results in fuel systems with low hydrocarbon (HC) emissions and reduced carbon dioxide (CO2) emissions. The technology also serves as the enabler for lightweight plastic hybrid fuel systems.
"The demand for NGFS® is driven by the increased demand from our customers in the region, coupled with the development of tighter environmental regulations being discussed at various levels of government," continued Perez-Lucerga. "Our technology will help our customers in China be well-placed to address current and future emissions regulations."
To help launch the facility, Kautex will engage employees at other Kautex facilities who are originally from the region.
"To help launch this new site, we've recruited employees from our other facilities who are knowledgeable about Kautex's processes and technologies," said Wayne Shen, president, Kautex Asia. "We had several experienced employees who were interested in returning home to the region. We will supplement as necessary with expatriates who have the skills and expertise that aren't here yet in Wuhan, but our intent is to develop a local team to manage the day-to-day business at the facility – from product launches to running production and customer interface."
Founded in 1935, Kautex pioneered plastics processing and blow molding technologies.  The company produced its first blow molding machines in 1949 and also began production of blow molded bottles. In 1964, with the success of the first prototype plastic fuel tank, the company entered into the automotive market. Today, the company is located in 16 countries and is a Tier One supplier for numerous automotive OEMs worldwide. The company produces fuel systems, selective catalytic reduction systems, clear vision systems and camshafts for automotive use, and a wide range of industrial packaging.
About Kautex Textron GmbH & Co. KG
Kautex, a subsidiary of Textron Inc., is rated among the Top 100 Automotive Suppliers worldwide. The company is a leading global supplier of plastic fuel tank systems, selective catalytic reduction systems (SCR) and clear vision systems. In addition, the company produces and supplies camshafts and packaging. Headquartered in Bonn, Germany, the company operates 32 plants in 15 countries worldwide.
About Textron Inc.
Textron Inc. is a multi-industry company that leverages its global network of aircraft, defense, industrial and finance businesses to provide customers with innovative solutions and services. Textron is known around the world for its powerful brands such as Bell Helicopter, Cessna, Beechcraft, Hawker, Jacobsen, Kautex, Lycoming, E-Z-GO, Greenlee, Textron Systems and TRU Simulation + Training. For more information, visit www.textron.com.
Certain statements in this press release may project revenues or describe strategies, goals, outlook or other non-historical matters; these forward-looking statements speak only as of the date on which they are made, and we undertake no obligation to update them. These statements are subject to known and unknown risks, uncertainties, and other factors that may cause our actual results to differ materially from those expressed or implied by such forward-looking statements.