"The first casting must be good"
These words, spoken by CWC founder Donald J. Campbell, in 1908, still inspire CWC's attention to quality and customer focus.
For 108 years, CWC has served as a leader in the production of camshafts for global automotive companies.  With such a legacy of quality and service, it's no wonder we believe "The First Casting Must Be Good."
A Leader in Castings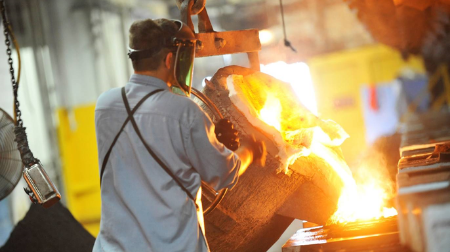 CWC manufactures engine components (crankshafts, camshafts, balance shafts) for a variety of applications including automotive, agricultural and power sports engine programs. In addition to producing rough cast engine components, CWC has the capability to undertake rough machining and material hardening. CWC is a technical leader in lobe hardening required in most modern engine applications and is sought after for its technical expertise and focus on quality. Using flame heat, oil quenching and cryogenic freezing and tempering techniques, CWC alters the metal microstructure to each customer's unique specifications.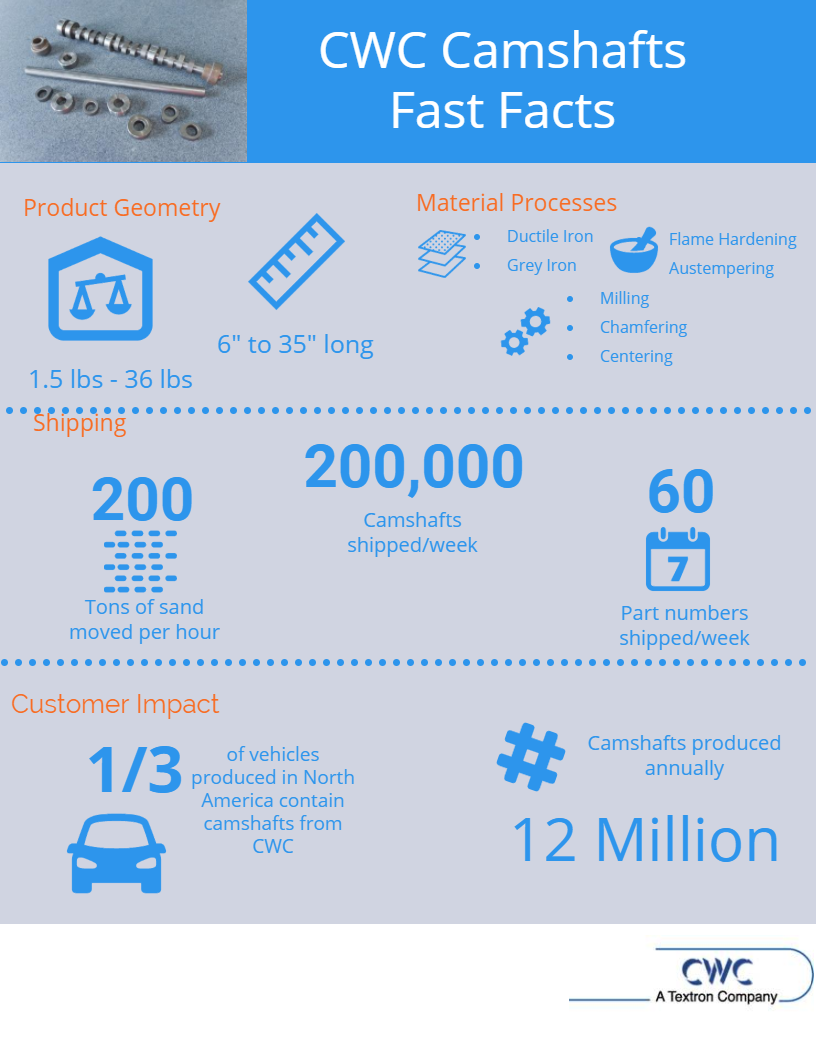 Camshafts "Fast Facts"
CWC Camshafts in Vehicles Nationwide: Our 287,000 sq. ft. facility located in Muskegon, Michigan, produces more than 12 million camshafts annually. In fact, roughly 30 percent of the vehicles manufactured in North America have camshafts produced at CWC.
Materials & Processes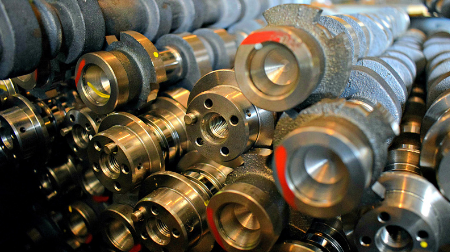 Materials
Ductile Iron: Material Specifications 
Alloyed Gray Iron: Material Specifications
Casting / Molding
Cupola Melt – 1 Cupola
Holding Furnaces – (2) 50 ton Ajax
Horizontal Cope & Drag / Green Sand Molding
Rough Machining
End Milling / Centering / Chamfering
Gundrilling
CNC Machining
Flame Hardening
CWC has been flame hardening camshafts for many years. We make approximately 5 million flame-hardened camshafts annually and have never had a failure in the field.
As the single-source camshaft supplier to Toyota North America, we understand the importance of quality in our flame-hardening process.
Austempering/Selectively Tempered Ductile Iron (SADI)
CWC's selective tempered ductile iron (SADI) process exhibits the strength, ductility and wear-resistance for applications up to 255 KSI HERTZ. This CWC innovation allows us to offer our customers camshafts that can withstand higher engine stress and significant cost savings when compared to steel or assembled camshafts.
CWC: A Long-Standing Tradition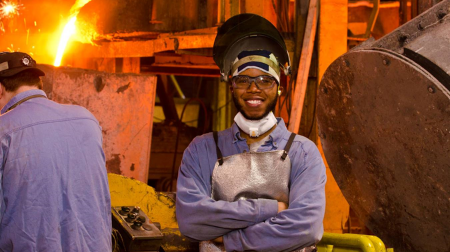 It started in 1905 with a verbal agreement between Donald Campbell, Ira Wyant and George Cannon to put $10 a month into a savings fund to provide working capital for business opportunities. Three years later, on April 20, the Campbell, Wyant and Cannon (CWC) Foundry Company was founded.
By 1947, CWC was one of the largest foundry companies in the United States, owning or managing over a dozen foundries in the Midwestern U.S. On April 19, 1956, CWC was acquired by Textron Inc. In 2003, CWC became part of the Kautex family, after Textron sold the remaining assets of its automotive group.
Today, roughly one-third of the vehicles produced in North America contain CWC camshafts. The foundry, located in Muskegon, MI, makes 12 million camshafts a year, and ships 50,000 cams per day.
The facility produces camshafts for Toyota (all North America production), General Motors, Fiat-Chrysler and Ford Motor Company. Although most customers are U.S. and Canada based, CWC supplies camshafts to customer facilities in Mexico, South Korea, and China.
Certifications / Accreditation / Awards
As with its sister companies, CWC has been recognized by regulatory agencies, state agencies and customers alike for outstanding quality and commitment to the environment.